Hello friends, welcome back to our channel. My name is Aseem Singhal. On Thursday, we saw a strong rally on Bajaj Twins i.e, Bajaj Finance and Bajaj Finserv. The stocks went up by approx 10%. Bajaj Finance gave excellent quarterly results for Q1. Bajaj Finserv gave a bonus and stock split. These are fundamental reasons. We should know the technical analysis as well. So that we can take entry and exit at the right time. If you want to see technical analysis of other companies then do check our channel, Trading with Groww. So let's start today's video. First, let's talk about Bajaj Finance and its fundamentals. Why did this stock go up so fast? The total profit of Q1 of Bajaj Finance stood at 2596 crores. Compared to last quarter, it was 1002 crores profit. AUM or assets under management grew by 30%.
But these are fundamental reasons. Now we will talk about technical analysis and how would we enter, stop loss, and target based on it. Now let's see a few reasons as to when we should enter this stock. Here, we are using a daily chart. And I will use RSI as an indicator. Here I am putting RSI. I haven't changed any of its settings. Let's see if the stock will go up or not as per the technical analysis. Here we will use Divergence. Let me show you how it works. If you see the stock's lows, they are lower lows. The second low has been made lower than the first one.
But if we see the RSI, it is a higher low. It means the second low is higher than the first. We call it divergence. Let me show you a visual way of it. As you can see, I have touched both nodes by a line. It is a downward line. But if we see RSI and touch those nodes, it is becoming an upward line. When this happens, there are chances for the market for reversals. We get entry at a good point. As per this, we could have entered at this low point. That means, approx at 5419. As per RSI divergence, we could have got a good entry. Now the price is approx 7160. As per divergence trading, we could have got 1600 points or 30% returns. It might happen that you did not enter as per RSI divergence. But as per other techniques, we could have got entry to this stock.
We will check this based on Dow Theory. Here I have put a daily chart. Let me show you how Dow theory is working on this chart. As you see, the stock was moving on a downward trend. How do we know? Because its high is getting lower. And its lows are also getting lower. In this chart, lower high is becoming lower low. As you can see, higher high and higher low are becoming. As per this, we could have got entry here. Higher high and higher low shows that the stock is getting strengthened and momentum is increasing. And we could have got entry at this point. This is as per Dow theory. We could have got entry at around 5700. The price became approx 7150. If we got entry as per Dow theory, we could get a profit of 1500 points.
Mind you, we are entering soon. The 10% move came after a long time. But as smart investors, we could have got entry at a good time. Now I will tell you a 3rd technique based on which we could enter this stock. We will use Moving Averages. But periods for the moving averages will be different. Let me show you how that works. We are taking a daily chart again. We will add only the moving average. We will change the period to 5 moving average. This is a very fast-moving average. This is showing approx of 1 week moving average. The second indicator will also be the moving average. Here the period will be 12. Let me check the color. The 12-moving average is a bit slow. This depicts 2 weeks moving average of this stock. Let's add a few more moving averages. I have added the 3rd moving average. I am changng the period to 26. I am changing the color of this.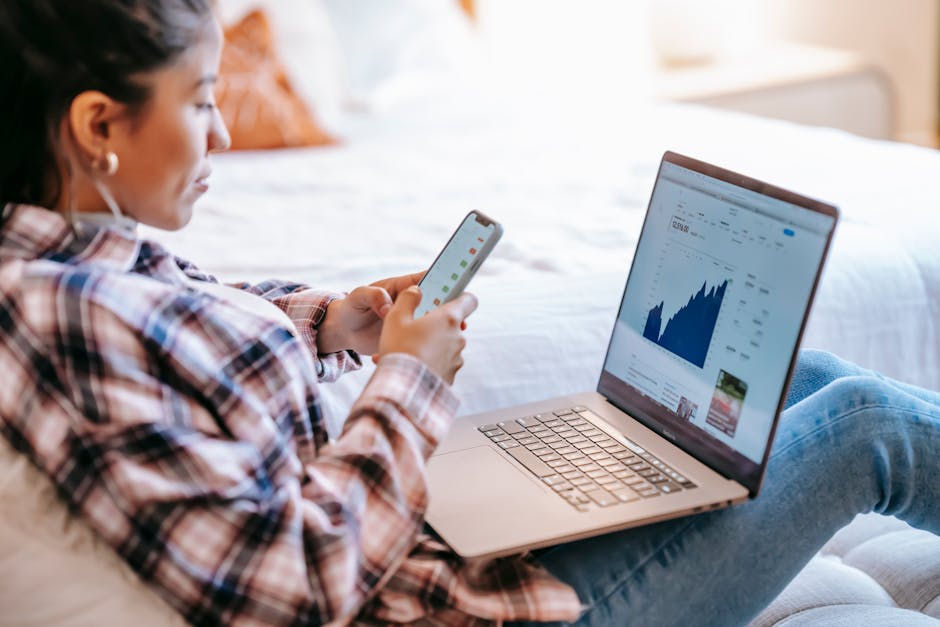 This depicts 1 month moving average. This is again slow. We will add our 4th moving average. The period will be 50 and I will change the color. I have added 4 moving averages- 5, 12, 26, and 50. Our stock is above all the 4 moving averages. The curves of the 4 are seen upwards. There can be strong upward momentum. On 27th July, the stock price was above all the 4 moving averages. The curves of the 4 are seen upwards. We could have entered the stock on 27th July as per the moving average. All the good moves could be captured on 28th July. This is the 3rd way of entering Bajaj Finance at the correct time. These are the entries. Now let's see the target and stop-loss of Bajaj Finance. The next important thing after entering is setting a stop-loss. Now let's see how to put stop-loss. Generally, my first stop loss is put as per swings. Now let's see our swings. For this, you need to see higher highs and higher lows. All the lows will be called swing lows. These will be our stop-losses. Initially, when we entered the stock, our stop loss can be this point.
As the stock is moving in our direction, we can trail our stop-loss. We can change our stop loss as the swing moves. Now the issue is that the stock price has moved quite up. Our stop loss has moved quite down. We cant trail the stop-loss now as we will lose all the profits if the stock price comes down. In this case, we will use Super Trend as an indicator. Let me add it now. I won't change any settings for this. I will use the default setting. As per Super Trend, our stop loss should be 6496 or 6500. After getting a good profit, we will put stop the loss as per the Super trend and not swings. Now we will see when to exit the stock or what our target should be. Generally, when there is a good move, we can make our closest resistance as our target. Let me show you the closest resistance. This will be the resistance as the stock started a downward move after this point.
This point is approx of 7600. so we can make a target of 7500 or 7580. Like Bajaj Finance, Bajaj Finserv has also given good quarterly results. They approved a 1:1 bonus and 1:5 stock split. This is again fundamental reasons. Let's see if we could enter this stock at the perfect time. Bajaj Finserv is also showing similar reasons for entering. Let me show you Our first reason was RSI divergence. There is RSI divergence in this stock as well. As per RSI, it was an upward node. But the stock price was falling. If we would have traded as per this, we would have got a perfect entry at this point. So this was an RSI divergence trade. But if we would have traded as per Dow theory or higher high and higher low, then also, we would have got entry at this point. We would use the same analysis as per Bajaj Finance for taking the entry. The next important thing is volume, let's add that too. As per volume, we can see that Bajaj Finserv saw a good volume earlier. The green candle is of volume. This came many days ago. This volume candle was made before the 10% move.
So the smart money had some anticipation that it will give good returns. So as per volume, we could have taken a quick entry. Now we will see the stop loss in Bajaj Finserv. We will use the same indicator, the Super trend. So the indicator value shows 13,200. So our stop loss as per Super trend can be 13200. What will be our target as per Support and Resistance theory? It will be at this high. let me show you this as well. This price is approx of 17400. So the target is 17400 as per Support and Resistance theory. Because the stock went down after this point. One thing to note is that Bajaj Finance and Bajaj Finserv move similarly, So it may happen that one of these stocks touches its target and the other doesn't.
In that case, if Bjaja Finance touches its target then we can take an exit from Bajaj Finserv. So this can be one thing which we can incorporate to get better profits. So this was for today. I hope you liked today's video. So we saw different ways of taking an entry in Bajaj twins. And what stop loss and target to keep. Make sure to like this video and subscribe to the channel. Thank you..